The Kind of Girls ",
Friday, 7 December 2012 | 10:22 pm |
0COMMENTS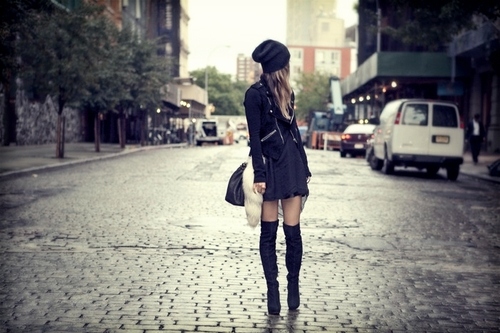 These are the kind of girls who hang dream catches above their beds, who eat pomegranates and read old history books for fun. These are the kind of girls who take pictures of their hands with disposable cameras and wallpaper their bathrooms with pretty roses. These girls sketch eyes and mouths and little drawings all over things, they look you right in the eye and almost through you when you speak to them. These girls camp out in their backyards for fun, they light candles everywhere, and if you visit them at home they usually have all sorts of animals. Their wardrobes are filled with silk robes and bows and hats, they drink tall glasses of milk and snack on chocolate while they watch the sun rise.These are the kind of girls who ride bikes through the city to the cinema and plays old movies in the middle of the day. They watch "breakfast at Tiffanys" or Rosemarys baby". These are the kind of girls who are quite in public. They were the kind of girls who put too many marshmallows in thir hot chocolate, and when the snow came down, lit the fire and pretended to be in the North Pole. They would water color things they couldn't see & eat French toast for lunch. These girls were the kind of girls who gazed out of windows at bigger worlds and rain made them think of faeries and tree houses. In the summer they read Jane Austen and listened to Fleetwood Mac while sipping cold tomato juice. They told ghost stories under huge floral sheetes, candles glowing below their faces. They spooky endings made them scream and laugh. They huddled together so they wouldn't get too scared. Every sound outside made them jump.
Miss. My. Adik.
Thursday, 6 December 2012 | 12:09 am |
0COMMENTS
Well, hai guys? How are you today? Did you feel more better today? Ya, I hope so. Apa yang I nak cerita di sini adalah berkenaan my sister(adik). Why? Sebab I really miss her right now. Selalunya bila dia ada kat rumah, perangai dia memang annoying sangat-II sampai I rasa marah dan terlepas cakap bagusnya kalau dia tak ada. And now she really-II tak ada dengan I. Baru sehari dia tak ada, rumah ni dah sunyi semacam. Boring! Dia tengah bercuti kat kampung I di Muar sebab nak jumpa my cousin. And this year I dengan adik I baru sekali dalam tahun ni balik ke kampung(even adik I dah dua kali sebenarynya). Itu pun atas sebab raya.
Dear Adik,
I really miss you right now even before this everyday you'll be with me everytime without felling tired. But a day without you, me, mama & ayah feel like something going wrong. We're missing. Missing you. And I hope you'll know that until forever. And I want you to know, sometimes I got anger and demanding against you, that because I really care and I wanted to protect you from being someone useless in future. I want we together make something like WOW! to make people surrounding proud to us. Okey **, I promise to take care of you and our family as long I'm living. KAKAK SAYANG ADIK!


Sincerely,

Your Kakak <3
:: This what we are look a like ^.^ ::